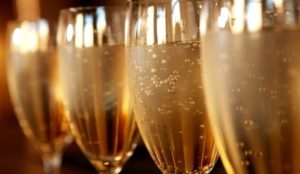 Women and Champagne
With International Champagne Day just around the corner (Oct 25th) and Business Women's Day just a couple of weeks ago, it's a good time to reflect on the fascinating story of the "veuve" Champagne houses.
"Veuve" of course means "widow", and while women were not allowed to start their own companies back in the day, it was tolerated that they continue to manage the family business after their (often older) spouses passed away.
Barbe Nicole Clicquot is a case in point. When her husband died in 1804 she took over the company and transformed the Champagne industry. For example, she effectively invented modern contraband marketing by aggressively inserting her product into the Russian market just before the trade embargo ended. Morally iffy, but Barbe did Barbe.
A keen technician, she also invented the riddling A-frame, which defines the method in which Champagne is clarified to this day – and which ensures that it's a vegan product, unlike most wines. What's more, the widow Clicquot developed the trick of adding red wine to bubbly to create Pink Champagne, and marketed the first vintage bottles. Even the insane gesture of whipping off the cork with a sword (sabring) is said to have started when she tossed bottles to Napoleon's Hussar cavalry riding victoriously through her domaine.
Madame Pommery, who ran the eponymous "maison" after the death of her husband, went one further. Louise was a pioneer of the idea of large-scale cellaring of bottles, the inventor of Brut Champagne (to please the British taste for dryer wines), and an enthusiastic patron of the arts. More impressively, she established the first employees' pension fund and social security benefits, and was the driving force behind the city of Reims' orphanage and children's nursery. No wonder Mme Pommery was the first woman in France to be accorded a state funeral. I mean, Brut Champagne – genius! And that cellar thing.
A wine widow who really got involved in the vineyard side of things was Lily Bollinger, who took to her cycle every day to check the development of the grapes in the still-famous and keyboard-challenging village of Aÿ. She was also scoping out the wartime damage to her neighbourhood, and her bravery and philanthropy were rewarded by a commendation from the British government. Well, it meant more then than it does now…
300 kilometres south of Reims, in Burgundy, the Veuve Ambal had created her own winery after moving back to her hometown following her husband's demise in Paris. Marie's firm is still a powerhouse today, and is run by her great-great-great-grandson or something. By this time the word "veuve" was such an indicator of quality that many sparkling wine houses inserted it into their name, even if there wasn't a widow in sight! Typical men!
Of course the story of women in wine doesn't stop there, nor with the Burgundian Duchesse Guiletta Colbert who took French expertise to transform the Barolo region, nor Mary Penfolds co-founder of the Australian winery, or even Lalou Bize-Leroy, who turned Domaine Romanée-Conti into the world's most prestigious label. Jancis Robinson OBE and Karen MacNeil are arguably the industry's best writers, and Annette Alvarez-Peters (purchaser for Costco) perhaps the most important buyer in the world. It's impossible to name even the tiniest fraction of supremely talented female winemakers operating today, but Cathérine Breton, Theresa Breuer, Eva Fricke and Caroline Frey are personal favourites – and you can't ignore Gina Gallo.
Maybe it's no surprise, since Gilgamesh cites Siduri as the world's first wine/bar owner in literature, and in Greek mythology, Persephone's mother Demeter (name-checked today as the kitemark for biodynamic wines) created the harvest season – as well as all the seasons, in fact. What's more, Penn University joined Cardiff and Yale in finding that women have better noses for wine than men – with the latter declaring that wine-tasting can make you smarter.
So, this Champagne Day improve your intelligence with a sparkling toast to these great female wine entrepreneurs!