THE 3 WINE CLIMATES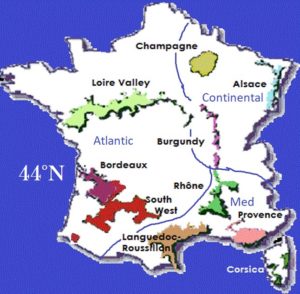 In order of this evening's wines:
Continental – eg Burgundy / Beaujolais / Alsace / Champagne
Mediterranean – eg Rhône / Languedoc / Provence
Atlantic (or Oceanic, or Maritime) – eg Cognac, Bordeaux, Loire Valley, South West
WINE 1: THE CONTINENTAL CLIMATE – WHITE BURGUNDY (BOURGOGNE)
The vines grow mostly on East-facing slopes that descend to meet the Saône river, and the region runs from Chablis in the North, via Dijon and Macon to Lyon (if you include Beaujolais). Both whites and reds are extremely prestigious, and some of the world's most expensive bottles are produced here; notably in the Domaine de la Romanée-Conti.
The Burgundy Map
Other Continental climates include:
Jura, Savoie, Champagne, Alsace, Rioja, Germany, Austria, Hungary, New York Finger Lakes, Canada, Walla Walla (I heard you the first time), PNW
The white grape varieties in continental regions in France are: Chardonnay, Aligoté, Pinot Gris, Pinot Blanc, Riesling, Gewürztraminer, Muscat etc. Elsewhere in continental regions you find Silvaner, Furmint and Grüner Veltliner. The reds in France are Pinot Noir, Pinot Meunier and Gamay. In other countries Zweigelt, Blaufrankish, Tempranillo and others are also grown,
Burgundy whites are (nearly) all Chardonnay – including Beaujolais.
Burgundy reds are (very nearly) all Pinot Noir, except Beaujolais (Gamay noir au jus blanc).
Chardonnay reflects its terroir, and also wine-making: particularly the secondary flavours from MLF and bâtonnage.
The history: Monks, Dukes, Revolution, Dr Lavalle and Rudy Kurniawan.
Food matches: Lyonnaise cuisine, mountain cheeses, curries!
WINE 2: THE MEDITERRANEAN CLIMATE – SOUTHERN RHÔNE (LIRAC)
How to taste like a pro.
Cultivars: GSM (Grenache Noir, Syrah, Mourvèdre), Carignan and Cinsault.
Grape varieties, a climate and a style of wine which extends down the Spanish coast and which includes the Tyrrhenian Islands.
Other Med climate regions include: Languedoc Roussillon, Catalonia, Jumilla, Provence, Liguria, Tuscany, South and West Australia, most of Portugal, Napa, North Africa, Chilean Central Valley
WINE 3: COGNAC – THE ATLANTIC CLIMATE (or OCEANIC / MARITIME)